A PREDETERMINED DESIGN
What has been clearly revealed in our rigorous phenomenological research of thousands of employees, one-at-a-time, is that each person has been defined; gifted, empowered, and purposed to fulfill a predetermined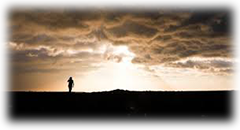 design. We first characterized this design as a Motivated Abilities Pattern (MAP); then as a Motivational Pattern (Pattern) Which consisted of five parts and several hundred elements emerging organically and classified as follows:
PART 1- A Central Motivational Outcome the person is motivated to achieve. 
This section consists of 30 items
Part 2 – A Group of Motivated Abilities the person is motivated to use. 
This section consists of 85 items organized under exact powers indigenous to each person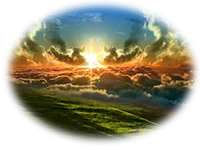 Part 3 – Certain Subject Matter and Mechanisms the person is motivated to work with or through.
This section consists of 40 items
Part 4 – Situational Circumstances of motivational significance.
This section consists of 62 items
Part 5 – Particular Way of Operating With Others.
This section consists of 34 items plus 22 modifiers
---
In Comprehensive Patterns, the Biographer draws from the extensive listing of categories and elements which comprise the five part structure just shown.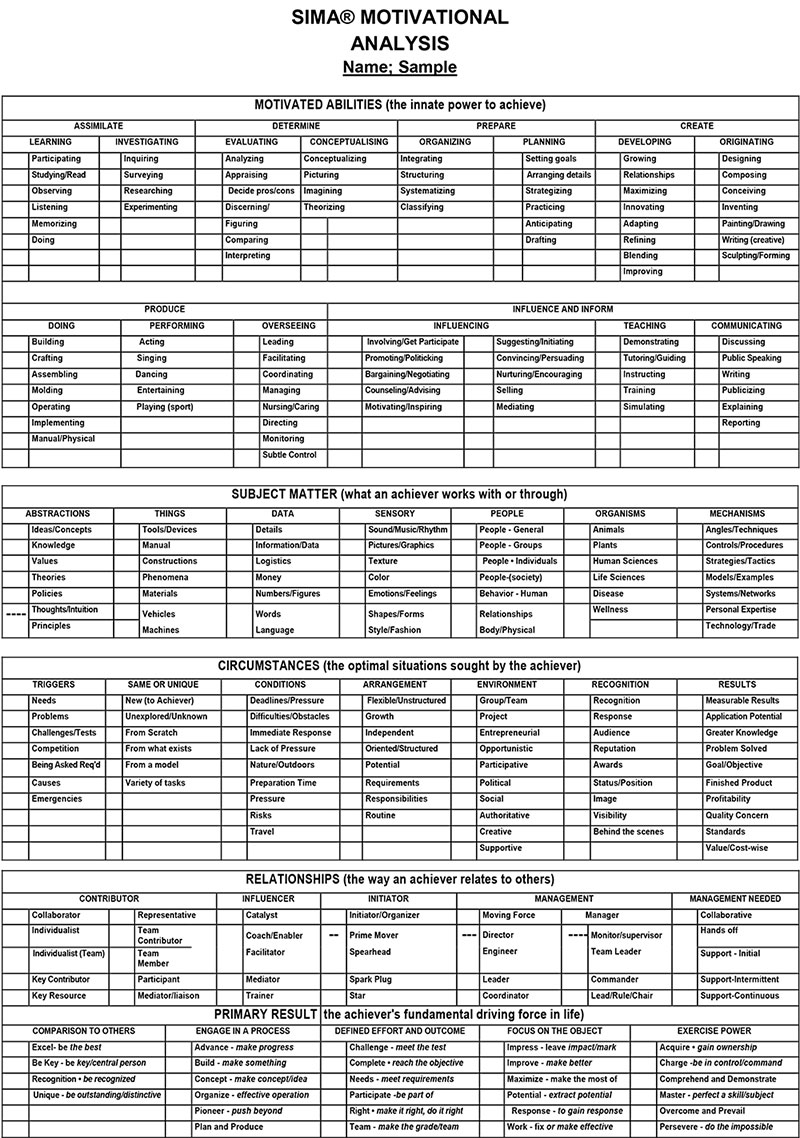 Examples of how achievement experiences lead to conclusions about  themes are arrived at by adding up identical or closely similar recurring words or phrases.
                        GET ON TOP / TAKE CHARGE  (Outcome):
"Enjoyed school – started off in a B stream – worked myself up into an A – used to work like hell for 2-3 weeks – enjoyed exams – sit down and perform when you have to perform – decided I wasn't going to be left behind – I achieved what I determined to achieve.*** Was made school prefect – enjoyed organizing groups of other children – breaking up kids when they were fighting – seeing smaller kids to bus stops – kids come to prefect with their problems – expect to get them sorted out.***Set up radio transmission broadcasts – have responsibility for a certain range of activities – setting them up in different comers of the yard – I was somebody in the school. *** Ran medium-sized grocery shop – kept records of cash and stock – reordered as necessary – feeling I was running it – standards were maintained. *** Cross country – competition there – guys who were faster guys with more endurance anything from 6-10 miles – came over the top of a steep bank – first guy was just finishing – got on my toes and beat this fellow by 5 yards. *** Organized efforts of 25 unskilled men on shift work – work was satisfying as it involved organizing other people greater age than myself – getting a hold of a fitter – telling him what I wanted – making sure it was done – give directions to other people – try to integrate them into the team ***Ran small process design department containing 4 engineers and 2 draftsmen ­first appointment with responsibility for the work of others – head of a team.***  I was thinking ahead of this guy – got these engineer guys and draftsmen to design and push the pilot plant people – it was a team of people – I was in charge of the process group- going back and organizing people – working with people ­everyone really keen and involved in the thing. *** Work involved mobilizing and motivating people – working closely with our US licensor – involved in detailed discussions with the client – make sure my team of people were ticking along on the same frequency I was. ***Involved in 4 actual sales -involved client contact – convincing my own management – located the right man – appointed an agent for a particular territory – talked to sales and proposals people about the way inquiries should be handled. ***Starting up a coke oven and byproducts plant – controlling the rate at which the ovens were heated up – few people there controlling so much. *** Designed and operated pilot plant treating effluent gases – designed system which brought in gases from pots – set the thing up – tested it all out – organized the way it was going to be run – taking charge of the whole gamut of the thing.*** Predicted  improvements that would bring about improved economics ­designed plant – followed the project through – initial predictions were realized ­taking something which is very inefficient – introducing into it things I had learned – designing a new unit – seeing it through all design stages, erection stages, and working exactly how it should be – able to show beyond all doubt you could reduce the cost of material – get more material. *** Steerr original research work through pilot plant, design, specifications, erect and commission project – responsible for design of new plant – process was to give company a large competitive advantage over any other producer .*** Client in Pakistan – in the picture right from the word "go" – overall involvement – being the person that knew about it – being relied on by a lot of people – making sure that we got the sale at the end of the day – then doing the design – being involved all the way down the line.*** Task was to collect basic process design – work up fixed price bid – involved more in the commercial activities this time – even more at the helm of the thing ­make sure all the mathematics were right – what we said we could do, we could achieve – until you've got the contract signed, you haven't achieved anything.*** Designed extensions to house – drew up plans for local authority approval ­contracted out foundation work – personally built interior – by handling the extensions myself, was able to gain excellent value – satisfying to see the place grow into what I knew it could – nice to be involved practically as well as conceptually.*** Took over new Middle East market – planned and implemented marketing strategy – established company in this market – increased inquiries by a factor of 20 – involved client contact, convincing my own management of the needs of the area, organizing company resources – able to justify my own 'take' by obtaining 4 contracts – I was taking over a new job – it meant going out, meeting new people, deciding what was needed"
Similarly, recurring themes which reveal certain abilities,, circumstances,  relationships and subject matter are added up to arrive at conclusions, as in these few examples:
OBSERVE / LISTEN (Ability):
Always fascinating to me to see how people live – I really got to know people pretty well ***- looked at the tree configuration and decided what the possibilities were ***– had to identify 60 different birds – to identify them by call or silhouette – male or female ­enjoyed spotting the birds and being able to get as close as I can – I got within 3 feet of a hermit thrust.***  It was always interesting on summer jobs to observe – I got to know people – always enjoyed listening to their conversations and what was important to the ***observing who played tennis and how good they were ***. I do like to record what I see – 10 other people could walk past that same picture—I take real pride in seeing what the gems are in nature-like seeing things that stand out. Things will jump out at me when I'm walking around – I do have an ability to see and perceive these things ***–interviewed 45 foremen in a production department – getting their input on employee relations subject ***-.I really enjoyed picking the professor's brain and finding out what he needed."
PROJECTS/PROGRAMS ( Circumstance):
"Projects – cooking set up  camp, woodcraft, sell Christmas trees during the holiday season – ­able to sell the trees by Christmas *** Even research problems chosen by myself – choose my own project – interpretation of data – publish the results ***  structurally related problems – solve the problem – achieve my particular goal – delivered a paper from this work *** collaboration which resulted in 2 papers *** provided parties – organizers for social club – organizing events -­conceived the idea – making sure all things got done  organization of the membership – filling a vacuum *** completing PhD- choice of area to work – one set of ideas – conceptual base ­concentrating on one area *** had professor talk to me – access to prepublication information ­fanned my own research program – impressive research program *** future research /materials synthesis and evaluation program – new materials for research and development *** -high impact area – short term goals – project feasibility – program strengthened *** commercial applications – programs of high priority – high impact area for R&D concentration *** soundness of the program – interest in the program – rapid research results – understanding nature of the program *** ­research direction – write up reports, memorandum – expansion of the program."
INDIVIDUALIST (Relationship):
"Learned to speak English – learned it secretly ***- Gave best talk of the year in 4th grade ***  Won medal for long distance swimming *** Invented solution to problem on test *** Was probably first person in 60-year history of two schools that wanted to take course in other school *** Asked to join fraternity-went through pledging cycle – dropped out two weeks before initiation ­decided it was not for me ***- Found I could win easily on either side of (debating) issue *** First six weeks got straight A -grade level then started slipping – accepted on condition of a certain grade level at end of first 6 weeks – I beat the system***  Played couple years more for pleasure of being Concert Master – that wasn't good enough for me, so I gave it up *** Steel mill having problem – my boss was called – I tagged along – everyone was standing around in a puzzled way – popped into my mind there was not sufficient water to permit acid to fully ionize – said, 'Why don't you add several hundred gallons of water?' ­unnatural thing to do but they tried it – it immediately worked beautifully *** Asked to write 'lead' paper – accepted because I wanted the recognition but more importantly because it allowed me to emphasize the unconventional areas I had *** We started looking for the nature of the defects – as a result of many investigations I came to this conclusion – you needed to heal the surface – I was able to put it all together into this 'healing' concept *** With no help, I planned and erected a 2-room addition to my house.
MONEY/THINGS (subject matter):
"Earned spending money – helped buy a new bike *** – mother gave me a dime for each A and a nickel for each B in elementary school – earned a lot of money that way ***-  I could sell these papers – seemed like a way to earn money – sold all your papers – I guess I was always conscious of money ***  I had an old bike – wanted a new one – couldn't get it unless I helped earn it – remember going down to Montgomery Wards and buying this red bike ­really treasured that thing – took care of it – a big thing to show the other kids***  earned money through a scheme they had worked out for my pay – he had a scheme where I worked so many hours and got so much money *** I was business manager of the yearbook- ­For the first time we made the yearbook come out in the black – I did that by coming up with a scheme where the kids could pay half down and half when they got the book – got more people buying/taking the money ***-I'd earn money and was putting a lot of money into this college and I wanted to get my money's worth-*** I had a nice two-room apartment-just wasn't enough money my wife and I did all the painting and finishing to save money  – the first home we had we owned."
View examples of two MAPS HERE. The first is that of a Chemist who supervises other professionals  The second is a PhD engaged as a contributor in a research organization.
View two more examples of  MAPS HERE. The first is that of a teacher.
The second is that of a project engineer.